THE
HOOK
BLOG
Coffee Fuelled
Thoughts, Stories
and
Ideas
From the HQ
Why We Started Hook Coffee?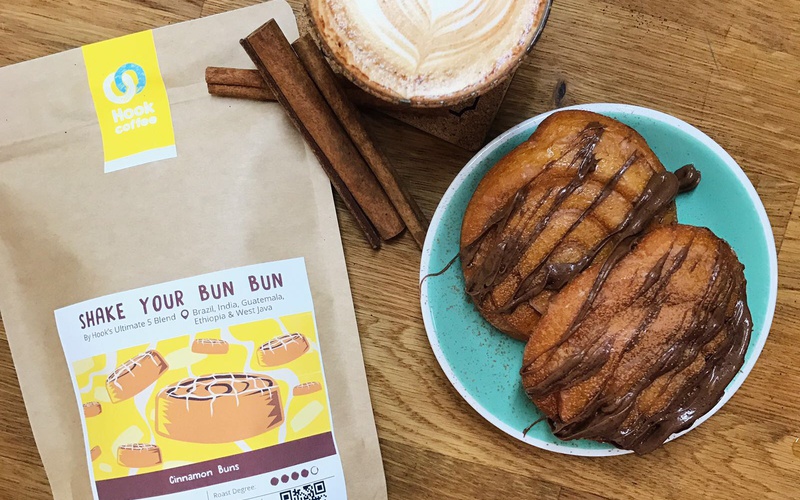 Coffee is more than a party in your mouth. It is more than caffeine. It is more than dirty water.
Many of the best questions in life are the simple ones. Before we launched Hook, we asked, "why do we love coffee?"
What was it about coffee that we loved? Many things came to mind.
Once we compiled the exorbitant list of things about coffee that make us smile, we chose to truly focus on a few: Community, quality, and enjoyment.
Community
As intentional purveyors of the coffee craft, we at Hook Coffee focus on sustainability and hospitality. We believe that the best coffee isn't about just flavor and enjoyment. Coffee is one of the world's most traded commodities, and it needs to be dealt with responsibly. Sure, we publish articles on coffee quality and offer brew guides, but we also work within the coffee community to promote sustainability and well-being.
Growing and processing specialty coffee is an art form. It takes years, and even generations to cultivate particular strands of coffee varietals that yield coffee acceptable to specialty standards.
Hook sources coffee beans from farms all over the developing world, and we only source the finest sustainably grown Arabica coffees.
Coffee farmers have a unique skill set and produce a luxury good. Unfortunately, many of these farmers reap very little of the profits they deserve from their craft.
To combat unfair wages and to promote carefully grown coffee, we chose to adopt a direct trade model.
Direct Trade means that we directly work with the farmers that grow the coffee we roast daily. In other words, we develop relationships with them. With direct trade, farmers earn 10-25% more. Because the farmers are paid well, they can support their craft – this means that the coffee tastes better, the children of the farmers can go to school, and their overall standard of living is improved. We absolutely value the farmers who devote their lives to the quality and sustainability of the coffee species.
We also value you guys! The incredible people that support us aren't just customers... you all are our friends and teammates. Together, we can promote tasty, ethical coffee practices. Community is about different types of people coming together to do something worthwhile. We truly believe that without solid community, good coffee isn't possible.
Quality
Part of Hook's mission is to educate on all things coffee related; we focus not only on sustainability / ethicality, but also on brew techniques, and the applicable science behind the brewing process. We wish to share our knowledge with you. Coffee isn't supposed to be a trade secret.
Many of our posts concern brewing techniques and theory.
We write these so that even the novice can enjoy and understand what is happening with their coffee. At one point or another, we all started at the beginning. At the beginning of the craft coffee journey, extraction theory and brewing technique, seemed like rocket science, and brewing a well-balanced cup seemed all but impossible.
Starting out in craft coffee is hard.
And Hook believes that no one should get left behind.
Quality is not just how good something tastes. It's not about the fancy, minimalist coffee gear. It's not about the hipster coffee lifestyle. It's not even about the wacky science behind it all.
Quality is focused and educated intentionality. It can take ten minutes to brew a cup of coffee in the morning with certain gear. Why do we do this?
Sure, the taste is good, but really it's about care. It's about caring enough to utilize every bit of the coffee that is grown meticulously by the farmers, and roasted intentionally by roasters. Making good coffee is about respecting the potential of each coffee bean, not wasting precious resources like water, and being aware of farmers' efforts.
Enjoyment
We are about to write a post on how not to be a coffee snob. Snobbery isn't something we're fond of.
Snobbery can be a humorous subject. People call us coffee snobs because we enjoy good coffee. Your friends may call you a snob for politely offering them a pour over.
We would argue that promoting ethical coffee practices and valuing others isn't snobbery. We offer coffee education posts because we want everyone involved. We try our best not to exclude others and bring people in. That's what community is all about.
Once again, we thank you coffee people out there. We couldn't do this without you!
Before we sign off, here's a Chemex recipe we've been digging! (we will be a doing a video and stocking chemex on our products list soon, so stay tune)
Coffee mass - 25g

Grind size - in between Medium and Coarse (23 - 26 on Baratza Virtuoso)

Water Volume - 400 ml

Temperature - 98.3 degrees Celsius

Ratio - 16:1

Brew time - apprx. 3:00 minutes

Bloom - 50g

Directions - After the bloom, pour from middle and loopty-loop to the outside. Keep this up for 175ml or so (conservatively, just at a nice slow pace). Then get more liberal and speed up velocity of the pour, making sure to agitate thoroughly (medium velocity, making sure to pour somewhat vigorously when rotating to the outside rim). Don't pour directly on the sides for this recipe. Pour directly in the middle for the last 30ml. Stir 5 cycles with warm spoon after 400ml.
Are you ready to get Hooked yet?
Just in case you haven't got your first bag of coffee, here is a $10 voucher* to weclome you on your amazing journey towards #makingcoffeebetter when you sign up today.
Use code: TAKE10
Sign up here!
Happy Brewing!
Ernest from Hook Coffee
*Voucher code only applicable for your first bag of coffee on a subscription. Voucher cannot be used in conjunction with any other offers.
From the HQ
From the HQ
From the HQ
From the HQ
From the HQ